If you love Craft Beer, you will love Craft Beer Travel, and what better way to do that, than with a bunch of other Craft Beer enthusiasts?
At We Love Craft Beer, we are putting together a range of Craft Beer Travel experiences to suit even the most hard core beer lovers, so stay tuned for more tours and beer travel experiences.  And who better to partner with for all things beer discovery than Dave?
We're p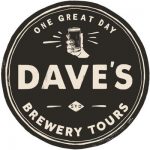 leased to announce our partnership with Dave's Travel & Events Group – the team behind Dave's Brewery Tours.  They really know their stuff and bring a heap to beer travel experiences.
Together we will be presenting a wide range of Craft Beer tours to a whole host of areas including
Newcastle
Canberra and the ACT
Victorian High Country
Melbourne
Many more coming soon
See our full range of Craft Beer Tours here