On Monday the 13th of November I visited Hawkers Brewery in Reservoir, Victoria. This brewery was started by Mazen Hajjar less than three years ago. When he opened he had four employees and produced 6000 litres of beer a year, he now employs 33 people and produces 3.5 million litres of beer each year. They have a potential capacity of 6.5 million litres each year.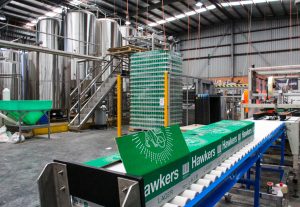 The brewery employs four full time brewers and two full time cellar brewers and puts through ten batches of 4000 litres each day through their fully automated brewhouse ( that the brewers can start from home via their iPhone) and ferments this in one of five 80 hectolitre or thirteen 160 hectolitre fermentation tanks. These tanks have been specially designed and manufactured to allow controlled dry hopping in the tanks. They use an automated inline carbonator that individually controls the carbonation to each can, bottle or keg. They have a bottling line that can handle 6000 bottles an hour and a recently installed canning line that can handle 6300 cans an hour.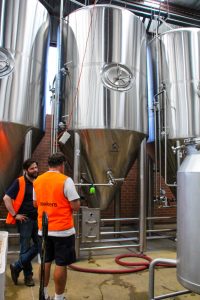 They are also environmentally friendly producing 40% of their energy requirements through solar panels and recycling 98% of their waste.
The brewery has won 62 medals for their beers in the last three years and several major awards. Most notably being; Brewer of the Year for Oceania for 2016 and Supreme Champion Brewer for 2016 at the London International Beer Challenge.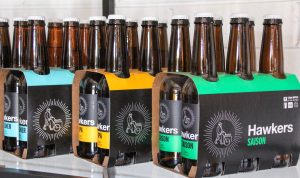 The beers that they produce include a Saison, Pilsner, Pale Ale, IPA and Stout in bottles. In cans they have Lager, XPA and West Coast IPA. They also produce some special barrel aged bottles of Imperial Stouts, Barley Wines and IIPAs.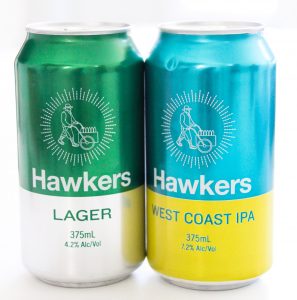 The beers that I sampled were:
1. IPA, 6.5% abv, 65 IBU, this has a golden colour and a nice citrus fruit aroma. It has a well balanced flavour of sweet fruit with a mild bitterness on a crisp dry finish. Very easy drinking.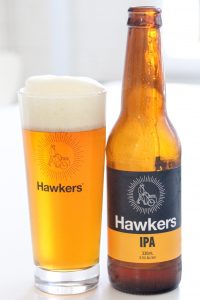 2. Imperial Stout 2017, 11.0% abv, this is aged in Bourbon barrels and has a black appearance and a rich, strong aroma of raisins and whiskey. It has a wonderful, delicious, strong flavour of raisins and alcohol soaked fruit. This is a truly sexy beer, wow!!
This is a brewery that is no bullshit, just good, honest, great tasting beers.
These beers are worth searching out, they are available from the brewery and from selected bottle shops Australia wide.
I would like to thank Mazen for taking the time to talk with me and showing me through the brewer