On Wednesday the 10th of January I visited The Northbridge Brewing Company in the Northbridge area of Perth, Western Australia. This brewery came into being after the City of Perth asked the community for expressions of interest and suggestions for use of the area next to the Northbridge Piazza. It took several years for Beerland Brewing to go from a concept to actually being an operating brewery and bar in the heart of the entertainment district of the city. The brewery finally opened in August of 2014 and has never looked back.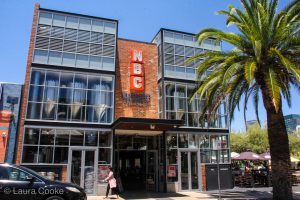 The brewery is very family friendly and the Piazza Bar opens out onto the grassed area. Movies are also shown here on the large outdoor screen. The brewery itself is split over three levels; the downstairs Piazza Bar and Beer Garden, the upstairs Tank Bar and the rooftop Skydeck Bar. The brewery has a restaurant that has a fantastic menu of food that goes well with beer.

The brewing is carried out in a twelve hectolitre brewhouse with the brewery having a total capacity of about 150000 litres per year if they were to really push the brews through. They have a core range that has grown from four to five styles of beer and also produce an ever changing selection of seasonal brews.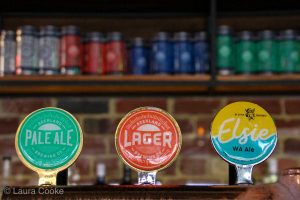 The beers that I sampled were:
1. Beerland Wheat, 5.0% abv, this has a golden straw colour and a banana and bubblegum aroma. It has a wonderful sweet wheat flavour with a mild spiciness.
2. Beerland Lager, 5.0% abv, this has a golden colour and sweet malt aroma. It has a nice malt taste on a crisp, clean finish.
3. Beerland Pale Ale, 5.2% abv, this Australian style Pale Ale has a golden colour and a tropical fruit and floral aroma. It has a well balanced flavour of sweet malt and fruit and then a gentle bitter finish.
4. Beerland Kolsch, 5.0% abv, this has a golden colour and a sweet malt aroma. It has a great malt flavour with hints of spice and sweet fruit. True to the style.
5. Beerland IPA, 6.0% abv, this American style India Pale Ale has a hazy golden colour and a strong aroma of citrus, tropical fruit and pine. It has a very nice juicy, citrus fruit flavour with a mild resinous bitterness on the finish. Lovely.
6. Beerland Yorkshire Gold, 4.8% abv, this ESB style beer is a seasonal and has an amber colour with a caramel malt aroma. It has a wonderful malt palate of caramel and toffee on a dry finish. Very true to the style and delicious.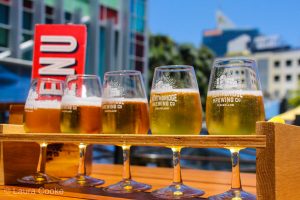 The beers being produced by head brewer Ken Arrowsmith and brewer Andrew Dean are all very good and very easy drinking. They have some great seasonal brews coming out soon including a Gose style and an NEIPA.

The venue is fantastic and available for functions and also hosts live music. They run Brewer for the Day events, Brewery tours, Brewmaster Tastings and Talks and a Beer Club. The Northbridge Brewing Co. is definitely a place worth visiting if you are in Perth.
I would like to thank Danielle, Nadia and Andrew for their time and hospitality when I visited.